SV-11'5 "Surf Multisport x 31" x6' SUP, Windsurf, Wing-Surf & Kayakfuktion incl. Sliding tear-off edge 4x foot straps - Woven-Fusion-Double Layer- Superlight Technology
A comfortable padded handle ensures a comfortable fit. The surface of the board is specially treated to ensure more resistance to scratching. The stand area consists of a 3D route grip design for a perfect, non-slip stand in all situations. The board is very easy to inflate, as it already reaches the recommended full hardness with just 1 bar (15 PSI), and a very smooth-running efficiency double-stroke hand pump is also included.
The SV series is manufactured using the latest high-quality "Woven-Fusion-Double-Layer Superlight Technology"
Each dropstitch thread is first interwoven, and then fused with the double-layer outer cover in a single operation using a special fusion technology. This saves weight by using less glue and at the same time results in a much more rigid connection between the drop stitch and the outer shell. The result is a unique weight / stiffness ratio.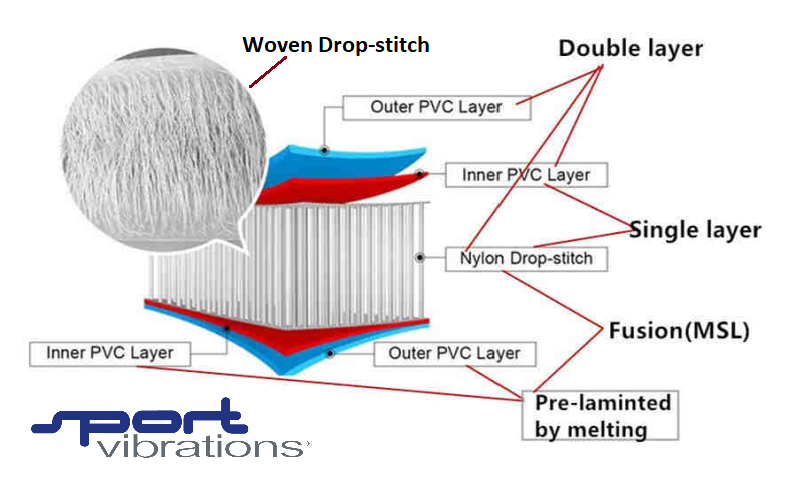 Thanks to this technology, the Sport Vibrations® Boards have significantly less deflection and fewer vibrations. which is why these boards are also suitable for heavy people up to 120 kg without restriction.
Latest "Woven-Fusion-Double-Layer-Superlight-Technology" only 8.4 kg
• Soft, very comfortable padded handle
• Windsurf function
• Sliding tear-off edge for free gliding when windsurfing
• 4x foot straps (removable & size adjustable)
• Kayak-Seat-Ready (4x attachment points integrated on the board ex works)
* Wing-Surf ready
• Anti-scratch finish (special surface treatment for more resistance)
• Total load: 280 kg e.g. 1x paddler + 1x additional person or dog + luggage
• Recommended for people up to 120 kg
• Volume: 310 L - Weight: 8.4 kg
• Length: 11'5
• Non-slip base thanks to a special 3D diamond grip design
• Fin: Us box, tool-free assembly
• Sword fin: Us box, tool-free assembly
• Sustainable, environmentally friendly packaging (paper & cardboard without plastic)
• Manufacturer's guarantee: 2 years

Included in the SET scope of delivery:

Board / US box fin / sword fin US box / very smooth-running efficiency double-stroke hand pump / comfort backpack with XXL wheels / repair set
Testbericht SURF 08/2022
Testbericht SURF-Magazin 08/2022 - SV-11'5 SURF Multisport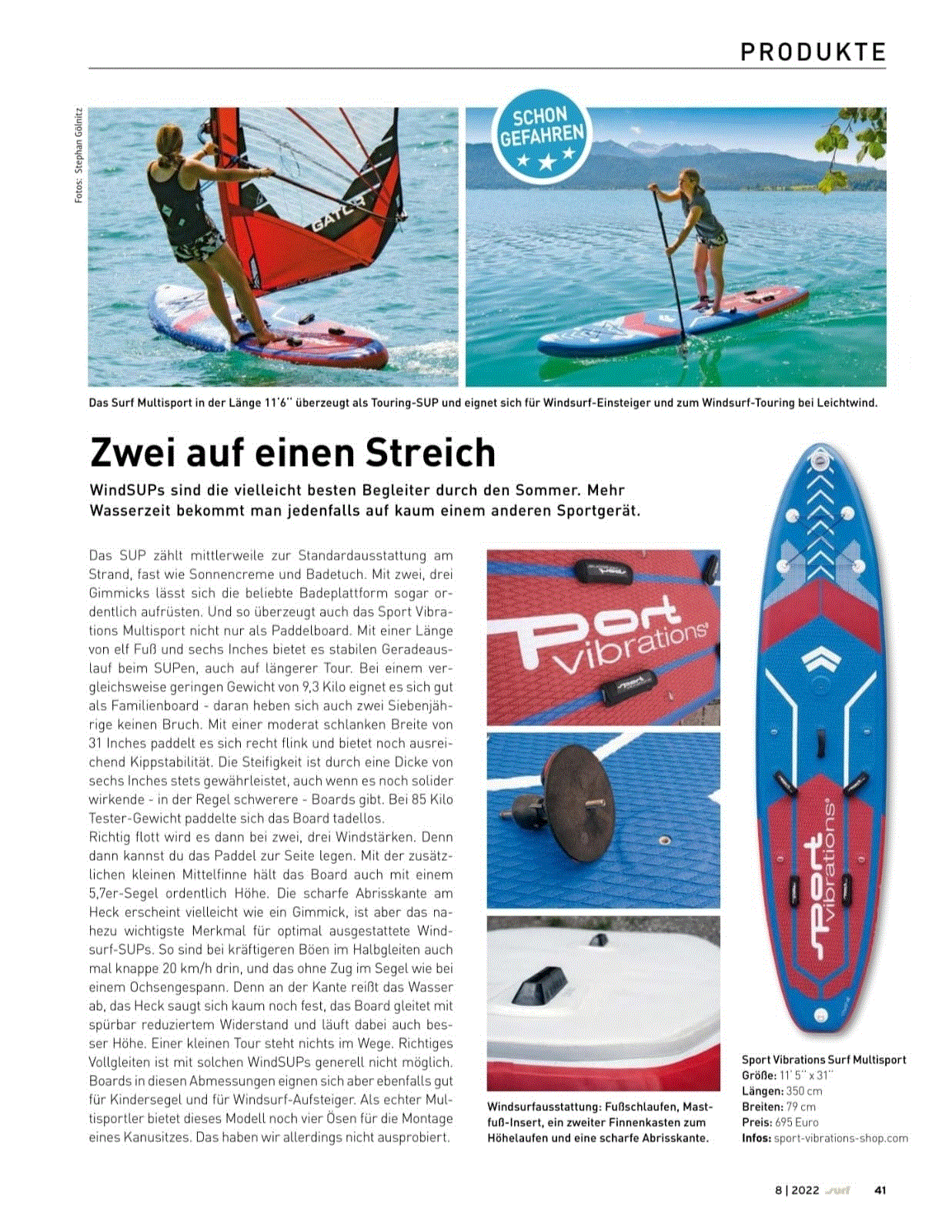 Testbericht SURF 08/2022
---
Product weight:

8,40

Kg

Dimensions ( length × width × height ):
350,00 × 79,00 × 15,00 cm
---